SAP DART is an evolving product with new fields and functionality being added to each new version. New fields are added at the request of DSAG or ASUG work groups in response to real tax audits – do you really want to start a DART project knowing that your older version is missing fields you may need in a future audit?
For this reason, when starting a DART project it makes sense to use the latest DART version to ensure the maximum number of fields are available for the segments being used. You can check in this table which notes or SAP_APPL support packages are required for which DART version. When discussing DART, we realize it is not always clear which DART version is in use in a SAP system.
Here is an easy way to check it:
Log on to your SAP system, then go to menu system/Status: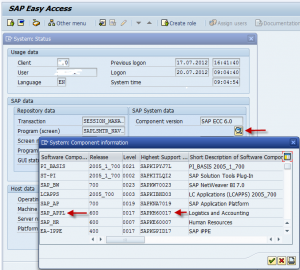 In this ECC6 system, the SAP_APPL support package is SAPKH60017
Then look at the following table:
And you will get the DART release: in our case, it's DART 2.6e.The Notes provides you with a link to the OSS note relevant for each release, as a starting point.
The DSC (DART Sessions Cockpit) from TJC Group will handle any DART release. More information on DSC at /products/dsc.