07-10-2019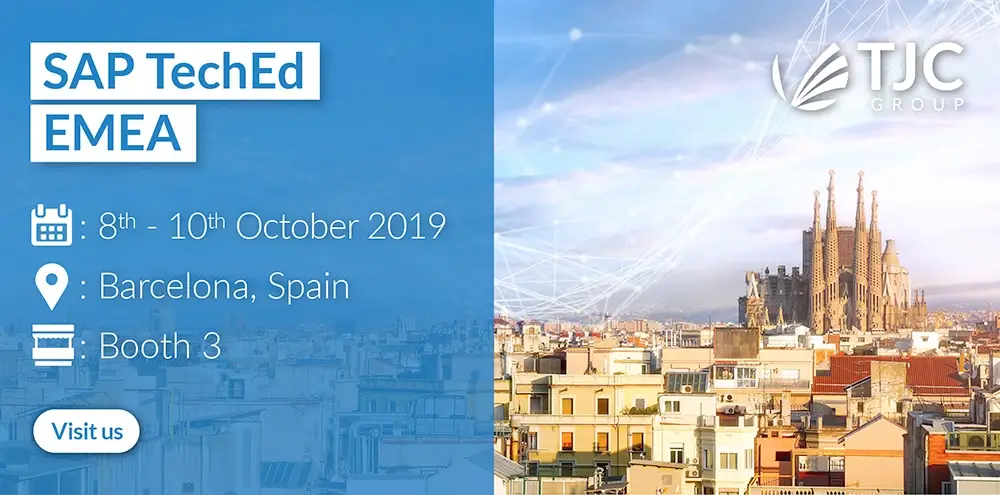 What to expect at SAP TechEd 2019 and why you'll want to visit TJC
SAP TechEd is the must attend technical training program of the year for the SAP community. The event offers the chance to learn about the Intelligent Enterprise and Digital Transformation from leading experts at the forefront of movement. This is an ideal opportunity to make new connections with your SAP community peers, and choose a learning journey tailored to the Intelligent Suite, cloud and hybrid application landscapes integration, digital transformation, and more.
We're showcasing significant new S/4HANA products for Developers, IT Managers and Project IT Managers
In addition to keeping abreast of the latest within the wider world of SAP, SAP TechEd is also a great opportunity to discover the latest solutions and innovations being developed by TJC. We've been putting substantial resources into R&D, and are particularly looking forward to unveiling details of some very exciting tools and significant developments. We believe that these could reshape the data management scene for SAP Developers, IT Managers, and Project IT Managers.
Join TJC experts at SAP TechEd 2019 in Barcelona for an inside look at TJC Group's next generation of cloud based tools for S/4HANA:
How we're utilising Agile and SAP Fiori methodologies with SAPUI5 to develop our latest technology
A look at the new products within the SAF-T family, including SAF-T Norway and SAF-T OECD
Details of the launch of FEC 4.0 and a whole new FEC suite for France.
The evolution of a range of our existing products specifically for SAP S/4HANA® – The SAP® Integration and Certification Center (SAP ICC) has certified that ASC, AEC, and DSC integrate with SAP S/4HANA using standard integration technologies.
Are you ready for the migration to S/4HANA? Partnering with TJC to obtain huge gains for your business
The move to S/4HANA presents a host of potential hurdles for those tasked with securing business data whilst balancing costs. However, many (and in some cases all) of these can be countered through data volume optimisation. In fact, far from creating additional data headaches, tackled from a data optimisation angle, migration can actually present organisations with opportunities within data aging, data archiving, legacy system decommissioning, and beyond. This could not only impact on the migration task – more data and cost efficient – but have a significant impact in ongoing savings and improved performance.
If you'd like to discuss how to make data volume management within your S/4HANA migration work for you please visit us at our stand.
Visit TJC Group at Booth 3 or get in touch for more information
If you're planning your S/4HANA migration or have any complex problems you need to tackle with SAP data volume management, information lifecycle management, or General Data Protection Regulation (GDPR), why not visit us and discuss them with one of our experts – we may have the solution for you.